Friday, May 17, 2013
I dreamed a dystopia. Last night (or, more accurately, this morning; I went to bed at 3:30am) I had a dream about a dystopian society where people exist in some facility that they believe is 'heaven'. In their minds, they're living all their dreams, whatever those may be – living a hedonistic life in unbelievable luxury; succeeding professionally; being adored by others.

But in real life, they're packed together at close quarters, living in unbelievable squalor, hardly interacting at all. In my dream, I'd been unfairly condemned to death for a crime that, yeah, okay, I committed, but I was forced to out of desperation and persecution, and it was made to seem malicious rather than self-defensive. But my punishment wasn't death – it was to be locked up in this facility but to see what it was really like.

You know, corny shit like: I imagine I'm lying on a giant soft bed with luxurious sheets overlooking a tropical beach… and then I realise I'm actually lying on a sack of straw in the corner of a noisome shed!

And when I tried to tell other people, they dreamily listened to my rants and then smiled and said, "But it's so wonderful here. It really is heaven."

I'm uncertain whether this was some sort of Logan's Run situation where people in the wider society were told they were 'dying' but then actually being locked up in this giant prison, or what the purpose of it all was.

It made a lot more sense when I had just woken up, as if it would make a really great sci-fi movie, but now it seems kind of silly. I realise this is basically The Matrix meets Fortress but you can't expect dreams to be original.

Monday, May 13, 2013
The difference between belongings and possessions.
The other day I was reading
this interesting article
about a project by Dutch photographer Niki Feijen to document abandoned houses. (The
Daily Mail
's politics are rotten, but it is really well set up for publishing lovely big pictures embedded in its stories rather than in tiresome clickbait galleries.)
I paused on a line in the story about how these buildings "now house only the crumbling belongings of their former occupants." I was struck by the word 'belongings', which we don't really seem to see much; we tend to describe our stuff as 'possessions' or even just as 'stuff'. I was thinking about how these words have different connotations.
When we speak of 'possessions', the emphasis is on our mastery of material goods, and our use of the things we own to make ourselves feel powerful. Alternatively, 'possession' alludes to the ways in which we allow objects to dominate us; how we fetishise them and obsessively collect and hoard them.
'Possession' developed in late Middle English from the Old French 'possesser' ("to occupy or hold"), which comes from the Latin 'possidere', a composite of 'potis' ("able, capable") and 'sedere' ("to sit").
But when we speak of 'belongings', we're speaking in a more comforting way about things that find a home with us. These objects are in the
right
place when we own them, and they help us fit into social groups and spaces. Our 'belongings' are totems, security blankets, things that reassure us that we, too, belong.
The word 'belong' comes from the Old English verb 'gelang' meaning "to be together with", with the addition of the intensifying prefix "be" (also seen in archaic words such as 'bedecked', 'bedazzled', 'begone').
When we speak of 'stuff', we're almost talking about filler: meaningless padding to fill the spaces around us and make us look bigger and better. But interestingly, 'stuff' has the same root meaning as 'belongings'. There was once an old-fashioned dress fabric named 'stuff', and it comes from the Middle English via the Old French 'estoffe' ("material, furniture"), 'estoffer' ("to equip or furnish") and ultimately from the Greek 'stuphein ("to draw together").
Lately I've been reading a lot of zombie/apocalyptic novels, and the movie
2012
was on TV on Saturday night. One thing I always notice in these stories – and in those of war refugees – is what they take with them. I'm the sort of person who gets anxious in a film that a character might forget his/her bag or have it stolen.
There is a 'funnie photo' in my parents' photo album of me, aged about five or six, asleep on the floor of my built-in wardrobe. To my parents I looked odd or cute. But I had fallen asleep there in fear and anxiety after reading a kids' book called
Dinosaurs, Beware!
It was meant to teach children safety rules, humorously using dinosaurs as the characters. My parents thought I'd love it because I loved dinosaurs.
Instead, I took it absolutely seriously as a manual on how to respond to crisis. There was a vignette in the book about how the dinosaur family had a plan if their house caught fire. They would take only their most important belongings and assemble outside on the lawn.
After reading this, I was gripped by anxiety about what I'd do if our house burned down, so I decided to make an 'emergency pack' of my most treasured possessions and keep it in my wardrobe, so it would be easy to grab quickly. I even had a blanket, in case we got cold at night outside our burned-down house. I must have fallen asleep in there, wrapped in this blanket, which is where my parents found and photographed me. I wonder if they ever took my worries seriously.
In extreme situations you have to make big decisions about which are your most important belongings: not just the most useful or exchange-valuable ones, but the ones that define you most and carry the most emotional weight. When someone is in a situation where they have to abandon their home – as documented by Feijen – it says a lot about these decisions that certain belongings are left behind.
Similarly, the objects memorialised by having been saved from the
Titanic
(sorry to get all re-
Re-Obsession
on you) reveals the totemic status an object can acquire because its owner had to decide it was valuable enough to rescue. And those recovered from the water or the undersea debris field – a stopped watch; a shoe; a porcelain doll – are poignant in a different way because their owners perished and were unable to cherish them. Instead, we must – and so must photographic projects like Feijen's.
Monday, May 06, 2013
Good fat and bad fat.
I am not putting this on my other blog because a) it is a personal issue that I don't want to discuss in a professional context; b) I feel confident that only about 10 people ever read this blog so it is probably the most private way to express my feelings about a topic that makes me feel very depressed.
Okay, so I stumbled across
this irritating article
about this plus-size blogger who encouraged women to "let go of their fears" about wearing bikinis and who posted photos of herself wearing bikinis and has now designed some bikinis for fat chicks.
Get fucked, dickhead. Often in well-meaning public debates about 'body image', there's this moronic assumption that as soon as you start to wear clothes above a size 16 – especially if you wear a size above 16 and wear body-hugging clothes – you can be held up as an awesome fat chick, a 'role model' for other 'plus size women' to instil 'body confidence'. But this completely disregards that fatness has its own aesthetic hierarchy that basically replicates straight-size beauty ideals.
You'll notice that the kind of fat chicks who get praised for being awesome and sexy by the likes of Mamamia are what I call 'good fat'. They have only one, pointy chin and a defined jawline. They have a defined waist. They have large plump boobs. Their torso is smooth and round. They look like larger versions of the familiar 'sexy woman' silhouette.
Then there's 'bad fat'. 'Bad fat' chicks have many chins and jowls and little visible facial bone structure. They have small breasts for their size, or large pendulous ones that lie flat against their chest. They are larger around the middle than in the bust and hips. They have rolls and folds of fat that give their torso a lumpy appearance.
People keep quiet about 'bad fat'. It has completely escaped the aesthetic realm of normativity and is only visible in the radical, politicised space of the fat activist movement. You will seldom see a 'bad fat' chick as a plus-size fashion model, or in the non-fat-activist media being praised for 'loving her body' or being a 'positive role model'. Instead she will be an object of repulsion, and will personify the 'obesity crisis'.
I am 'bad fat' and it fucking sucks. My fat isn't distributed in a pleasant, even layer, like a doona. I'm more like a lumpy old pillow. I feel doubly alienated looking at body-acceptance editorials or Facebook posts in which people gush over how 'hot' some plump, curvy chick looks in a stretch minidress. I just don't identify with that sort of woman, or even with the concept of 'hotness', at all. I envy her for being able to fit into socially sanctioned beauty ideals, and I feel that I've failed twice over: once to be conventionally 'hot', and then again to be 'fat hot'.
Years ago I stopped thinking of myself as desirable or attractive. Whenever I catch myself starting to fancy some dude I immediately crush the feelings because he would never return them, and I can't deal with the trauma of having some guy see me naked and have to pretend he wasn't revolted and then politely not ever contact me again.
Swimsuits are not a motherfucking tool of 'sexiness'. When I go swimming I think of myself as an invisible creature who's just there to do my laps and go home. I'm focused only on the activity itself – on what my body can do rather than how it looks.
I really hate swimming at the beach or in social contexts, because the focus is on checking out other people's bodies, and I have to confront 'hotness' and my own remoteness from it. The worst thing is the walk from the ocean back to my towel because my bathers are clinging to my body and I'm sure everyone is repulsed by the sight.
Honestly if I said all this shit out loud I would have sprained my index fingers by now from the amount of scare quotes I've been using. Anyway, I've just written a book that tries to be all consoling and reasonable and "you're not alone" and to critique the social messages that make us feel bad about ourselves, but the short version is that
clothes are fucked
and I fucking hate having to appear in public in any garment that at all suggests the shape of my body underneath.
Tuesday, March 12, 2013
'And I Am Telling You I'm Not Going', performed by Kevin Rudd.
I got the idea for this after seeing another picture of Rudd pointing and saying,
Homer Simpson-like
, "Heheheh, y'know summin? He
does
point a lot." Here's the
definitive rendition
of this stage standard by Jennifer Holliday, although Jennifer Hudson also does a
good rendition
in the film of
Dreamgirls
.
And I am telling you I'm not going
I'm the best man you'll ever know
There's no way I can ever go
No, no, no,
no
way! No, no, no,
no
way I'm livin' without you
I'm not livin' without you, I don't want to be free…
I'm stayin', I'm stayin',
And you, and you – you're gonna love me
We're part of the same place
We're part of the same time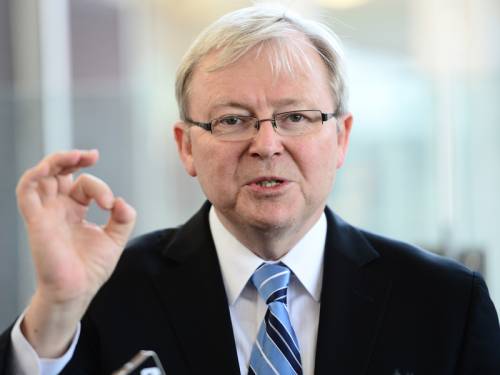 We both share the same blood
We both have the same mind
And time and time we have so much to share
No, no, no, no, no, no way
I'm not wakin' up tomorrow mornin' –
huh!
–
And findin' that there's nobody there…
Tear down the mountains, yell, scream and shout
You can say what you want, I'm not walkin' out!
Stop all the rivers, push, strike, and kill
I'm not gonna leave you, there's no way I will…
Aaaaaaaaand IIIIIIIIIII aaaaaaaaaaam teeeeeeeelling you, I'm not going!
I'm the best man you'll ever know
There's no way I could ever,
ever
go!
No, no, no,
no
way,
No, no, no,
no
way I'm livin' without you!
OWWWW!
I'm not livin' without ya, I'm not livin' without ya!
I don't wanna be free!
I'm stayin'! I'm stayin'! And
you
!
And
you
!
And
you
!
You're gonna love me!
Sunday, March 10, 2013
Spicks and specks of circular logic.
Tonight I was at my parents' house for dinner. As they were driving me home, a Bee Gees song came on the radio and conversation turned to the group. My mother was having difficulty figuring out which Bee Gee was which.
"Who was the lead singer?" she asked.
"Barry," said my dad and me.
"Which one was Barry?"
"The leonine one," I said.
"Which one was the leonine one?" said my mother.
"BARRY!" Dad and I chorused.
"That's Barry!"
The reason I associate Barry with a lion is that I remember a cartoon from my childhood in which Barry was depicted as a lion, Maurice as a beaver (because of those unfortunate Gibb teeth) and Robin as a spaniel (because in the '70s he had long hanks of hair that looked like spaniel ears).
Poor Barry. He's the only Bee Gee left now.
Saturday, March 02, 2013
The new workout plan.
Last year I compared the process of writing my book to
an athlete's training
. At that stage I had
no goddamn clue
how much harder it was going to get. Drafting has been like running a marathon, stumbling across the finishing line, and then being told there was still another 5km to go.
I'd have a deadline and then I would work basically around the clock to meet it, and there would be a horrible moment when I realised that my brain was mush, I had nothing left in the tank, but time was ticking away anyway: the darkness was turning into greyness outside. When I could hear birds and make out the shapes of trees, I knew I was fucked.
I wrote about this for
Island
magazine:
There are three kinds of birdsong heard at dawn. The wholesome chirrups that drift luxuriously into your consciousness on the first morning of a longed-for country getaway. The cheeky cheeps that hail your superior partying credentials as you stumble home after a booze-sodden, dance floor-footsore monster of a night out.

And then there are the cruel trills that taunt you at the end of yet another bleary all-nighter at your computer, as you wrestle with words that stubbornly refuse to form themselves into a column, a feature article, a book chapter, a novel.

[…]

Days blur drearily into nights, weekdays into weekends. My editor's cheery emails ("Hope you had a nice weekend!") fill me with rage. I can feel myself growing increasingly tired, sick and overwhelmed, like a clockwork toy winding down. This makes me panic, because how will I get all my work done unless I can keep working?
Surely it can't be a coincidence that drafting summoned the kind of bad feelings I've always associated with sport? My editor, with her
"Where is the manuscript?"
emails, took on the role of the implacable PE teacher, and I felt like a petulant child. I could recognise and despise myself for my petulance, but I couldn't stop myself.
When the Carlton Baths reopened at the start of this year, I decided to take up swimming again. It has been two years since my last exercise kick, which began when Penny nagged me into agreeing to 12 sessions of running around Princes Park. It took me almost a month merely to get fit enough to complete Week 1 of Couch to 5K.
At that time I kept a detailed exercise diary which is actually quite an entertaining read. Here are a few excerpts from this Adrian Mole-esque document.
1 February, 2011
…Penny says her goal is to become effortlessly fit; to be able to handle those interval 'beep tests' easily, and to run insouciantly at speed. My goal is more modest: to make it through the remaining ten sessions I promised Penny.

"You're a woman of your word, Mel!" she said when I told her this.

[…]

Again, the worst part was the warm-down walk. I felt like Little Blackie in True Grit: so exhausted I was ready to lie down and die. The effort of having to maintain a brisk walk was really tough, and I was making all sorts of embarrassing half-groaning, half-panting noises. As it turned out, I didn't notice my toe blisters at all.

7 February, 2011
…In other news, I told my parents about my exercise kick and they were very pleased. "I could tell you looked better! That's why I complimented you earlier!" my mother said.

This was very encouraging. However, in the interests of fairness her compliments had actually been, "Your hair's looking good," and "That's a nice dress," neither of which was strictly about weight loss or increased muscle tone.

14 March, 2011
…At the end of that run I had a wheezy quality to my exhalations, which sounded humiliatingly like the early stages of labour. I was walking just behind a guy who was clearly a bit weirded out by the noises I was making, and if I'd had the ability to speak I would have told him that I COULDN'T HELP IT. I could see him trying to walk just a bit faster so he could get away from me. But then hahaha I had to start my next run and so I overtook him. I think he was doing an interval training program too because then he started running and overtook me again.

25 March, 2011
I feel really flat and lethargic today, weighed down by sadness and unable to concentrate on work (and berating myself for not doing work). The swim hasn't really made me feel better.

I just can't notice any difference in my appearance, or the way that clothes fit me, or in my fitness levels. I feel as though all I can do is just keep exercising as much as I can and somehow, even though nothing has happened in these two months I've been doing this regime, perhaps something might happen in future.

I'm like the characters in The Road, just trudging down the road because the alternative is too bad to contemplate. They're not going anywhere and have nothing to look forward to, but they keep travelling because that's all their world has been reduced to.
This time I started another diary but abandoned it after several days. I just couldn't face the idea of having to write more, on top of all the writing on my book. But intriguingly, my editor recently
blogged
about her own exercise kick in similarly abject, self-deprecating terms.
I have been swimming at least twice a week and have recently decided to start walking and running around the Carlton Gardens. My goal is to have only one chin by the time my book comes out in June.
I have created two playlists on my phone where all the songs' BPM matches my running and walking pace. This idea came to me after I spontaneously started running to 'Run' by Gnarls Barkley and realised it was the perfect pace for me. I remember from my last exercise kick that I run at 150 steps per minute, because I used to count them in batches of 50. But now I can just count 19 bars of a 150BPM song, which is 152 steps.
As for the walking, I just stomp along to the beat of the song. I used to keep an on-the-go playlist of songs at walking pace on my old iPod, but they were a slower walking pace. I remembered that I always liked walking to 'Black Sweat' by Prince, which is 108BPM, but when I tried power-walking to it, I realised it was too slow, and so I've curated a playlist that ranges from 115BPM to 120BPM.
It's quite tough to walk at the fast end, but I figure I will train myself to find 120BPM walking easy, and then I'll gradually, incrementally increase the speed of the songs.
That is the new workout plan.
Sunday, February 03, 2013
War on 'piece'
. Can I just say that I loathe the way the word 'piece' gets used these days. Traditionally, 'piece' implies an ellipsis: a piece… of something. 'Piece' meant a portion, a constitutive element, and always referenced a wider purpose.
My dictionary gives several senses. There's "one of the items that were put together to make something and into which it naturally divides" (eg a piece of an engine or a jigsaw puzzle). There's "an item of a particular type" (for instance, a piece of luggage). There's "an instance or example" (eg a piece of evidence). "A financial share" (a piece of the company; they got $X apiece). "A coin of specified value" (a 50c piece). "A token used in a board game" (chess pieces).
As you may have noticed, these different senses get interchanged metaphorically, so that evidence is described as "a piece of the puzzle", a financial share is "a piece of the pie", or coins are tokens of financial exchange.
My mother sometimes uses 'piece' to refer to a young woman (always a woman!) she feels is unpleasant and conceited: "She's a real piece." (Similar to another of her favourite pejoratives: "little madam".) This is short for "a piece of work", which has a
generally contemptuous sense
. Perhaps it comes from Shakespeare's
"What a piece of work is a man"
speech from
Hamlet
, which is deeply sarcastic in praising the virtues of humankind.
Interestingly, the sarcastic meaning in general discourse seems to date from the mid-20th century: for example, in a
New York
magazine
story
from April 1969: "I said to the cop, 'You're a real piece of work.'" Before then, "a real piece of work" tended to refer admiringly to an honest effort or a really good end result.
But these days, we seem to have adopted wholeheartedly the term 'piece' in its sense of "a written, musical, or artistic creation or composition",
and
we have dropped the corollary "…of writing", "…of music", "…of art". I have kept quiet about my hatred of the usage of 'piece' on social media in this way, because I don't want to seem churlish and it really is a petty complaint. But I really hate it when someone will praise an essay, or an op-ed, or a blog post, or some other unit of writing, as "Nice piece", or a writer will say, "Here's a piece I wrote…"
What do we mean by a 'piece', anyway? Used to refer to writing, 'piece' is deliberately imprecise. Personally I worry that the usage marks our increasing inability or unwillingness to consider the specific forms, genres and contexts of writing. When an analytical literary essay gets mixed up with a persuasive issues-based commentary and an anecdote written on a personal blog, and we call them all 'pieces', we are reducing them to the act of writing, or the act of publication.
'Piece' also implies that a writerly career consists of a constant flow of such 'pieces'. For me the term is depressing because it so obviously references the piecemeal way that freelancers earn an income. I guess it could imply that there's an intertextual relationship between the 'pieces', or that a writer is 'assembling' a professional persona, bit by bit, like a mechanism; that's certainly what lots of writers hope their work does!
But it could equally imply disorderliness, as if the structural integrity of someone's oeuvre has been smashed and reduced to random pieces. Who knows what else Sappho wrote about? She's known to us only from surviving fragments of her poetry, which frame her mainly as an enthusiast of girl-on-girl action.
I still, however, haven't put my finger on something else I dislike about 'piece'… something poncy… Let's consider the term 'think piece'.
Google Ngram Viewer
is an excellent way to trace certain words and phrases through various language corpuses. I found it while researching the debates over anachronistic dialogue in
Downton Abbey
.
"Think piece" first appears in 1866-72 and and then again from 1890-1912, but may have been used primarily to denote opinions about industry: eg "I do not think piece-work is practicable…"). However, it really took off from 1940. (Many dictionary websites, including Merriam-Webster, date its first appearance to 1941.)
The earliest reference I could find to the contemporary sense, happily for me, frames 'think piece' cynically. It's from
The Washington Correspondent
, a 1937 insider's account of American political journalism by Leo Calvin Rosten: "There is an excellent phrase heard in Washington newspaper circles which suggests how news is 'manufactured' when the season or the day is dull: 'I'll write a think- piece,' or, 'I'll suck my thumb.'" I can sense a certain self-deprecation here, as though the journos recognise that this is lazy and juvenile, but they have to do it anyway because of the pressures of the news cycle.
'Think piece' reached a peak of popularity in 2000, which, you may recall, is the year the film
Almost Famous
came out. In the film, legendary music journalist Lester Bangs (Philip Seymour Hoffman) advises rookie William Miller (Patrick Fugit) to pitch a feature to
Rolling Stone
editor Ben Fong-Torres as "a think-piece about a mid-level band struggling with their own limitations in the harsh face of stardom."
As William scribbles down the unfamiliar phrases, Lester smirks, "Yeah, he'll wet himself." The phrase is ironised here, because Lester knows how to game an editor's pretensions. Fong-Torres's response is, "Let's see if we can get you another thousand words." LOOOOOL. No wonder this film was such catnip to wannabe music writers. That's the fascinating thing about
Almost Famous
: that it managed to be quite knowing about rock and rock-critic mythologies, but at the same time it bought into them earnestly and sentimentally, and encouraged the same from its audiences.
This was my real introduction to both the term 'think piece' and its dog-whistle meaning of an audience impressed by bullshit. And perhaps another reason why I dislike the use of 'piece' now is because it evokes both bullshitting – the writer's 'piece' is retrieved from his/her arse – and a pretentious audience lapping that shit up.
I also loathe the way the term 'piece' is used in the fashion and design worlds. You will hear about pieces of clothing being referred to solely as 'pieces' in a way that's clearly intended to evoke the sense of artworks: unique expressions of a creative vision. Same with pieces of furniture, or
objets d'art décoratif
.
For instance, I was reading Nicole Jenkins'
eloquent blog post
about what vintage means to her. She recognises that her ways of valuing material objects aren't for everyone – basically, she values the patina of history that accretes to a garment or an object over time. Her commenters agree… but they frame the objects as 'pieces'.
"I love the life and breath within each vintage piece and knowing that there is a mysterious history," writes Terri.
"…nothing can compare, not even in the slightest, to a vintage piece because with it comes a story," writes Suzi.
Here's where I worry that I am being petty, because there's nothing ostensibly wrong with using 'piece' in this way, But the danger arises when words become jargon: they're used primarily to signal membership in a group and connoisseurship of that group's shared cultural capital.
Fash-speak
, that quippy genre of fashion reportage, is much maligned because its meaning is so impoverished to a general audience, but it makes complete sense if you're immersed in that world.
For me, a workaround is always to be specific about what I mean. I will always refer to a link on Facebook or Twitter as an "article", "story", "blog post", "essay", "op-ed", or whatever else. Either that or it's a "piece OF" something.
I realise that I am leaving myself open to a most obnoxious response: people tweeting or Facebooking this blog post and adding, "Interesting piece by Mel Campbell". But I feel confident enough in this blog's low readership that people will not read this, much less rub my nose in it. I feel as if I say this all the time, but thank god for blogging! It really enables me to express the things that bother and intrigue nobody but me.